COOL BEACHES YOU CAN ENJOY FOR SUMMER VACATIONS
The pleasure of having a vacation in the summer is always breathtaking. Summer vacation is mostly preferred by many people, both because of the possibility of having a longer holiday and because of the school holidays. It is better to make a decision by examining in advance the locations that will benefit every aspect of the summer vacation, which is a very valuable opportunity to get rid of the lethargy and intensity of the winter months. One of the most basic problems experienced during holidays with a crowded group or family is the variation in holiday expectations from person to person. For this reason, it is recommended that the location and hotel selection be made very carefully.
When making a serene vacation plan that everyone can enjoy, considering different possibilities will help to make the right choice. Let's count the expectations from the summer holiday: enjoying the sea and the sun, spending time alone with nature, making historical trips, discovering new places and tastes, or experiencing high adrenaline. Being able to collect all these entertainments in a single location and hotel makes it possible for the summer holiday to be unforgettable for everyone.
Euphoria Hotels & Resort is representing its services on Turkey's most beautiful beaches and considering every detail for our guests to experience the vacation of their dreams. We recommend our thermal hotel, which stands out with its private beach and island, for those who want to spend their holiday in the Aegean, as well as three different hotels located at the seafront on the most beautiful beaches of the Mediterranean. In order to spend a wonderful summer holiday on the most beautiful beaches of our country, which is known as a holiday and tourism paradise, do not forget to evaluate the comfortable holiday options offered by Euphoria Hotels & Resort first.
Manavgat - Kızılagac
When you begin considering summer vacation plans, Antalya's Manavgat district and Side town are definitely taken into consideration. In addition to the many blue-flag beaches in the region, historical artifacts from the Lycian era and the magnificent nature of the Taurus Mountains are among the other beauties of spending a vacation in this location.
Manavgat, one of Turkey's most popular holiday destinations, was opened to tourism approximately 60 years ago and manages to attract everyone with its natural beauty and historical values. While planning your vacation in a location visited by more than 100.000 local and foreign tourists, deciding on the option that will fully meet expectations will be effective in making the whole vacation enjoyable. Close to the natural wonders worth exploring in Manavgat and its surroundings, in a comfortable place where there are activities and facilities that appeal to everyone's taste and vacation expectations during the days staying at the hotel. You will not understand how time passes while you are on holiday in Manavgat, where you can discover Side Antique City, Manavgat Waterfall, Bridge Canyon, and many other natural and historical beauties.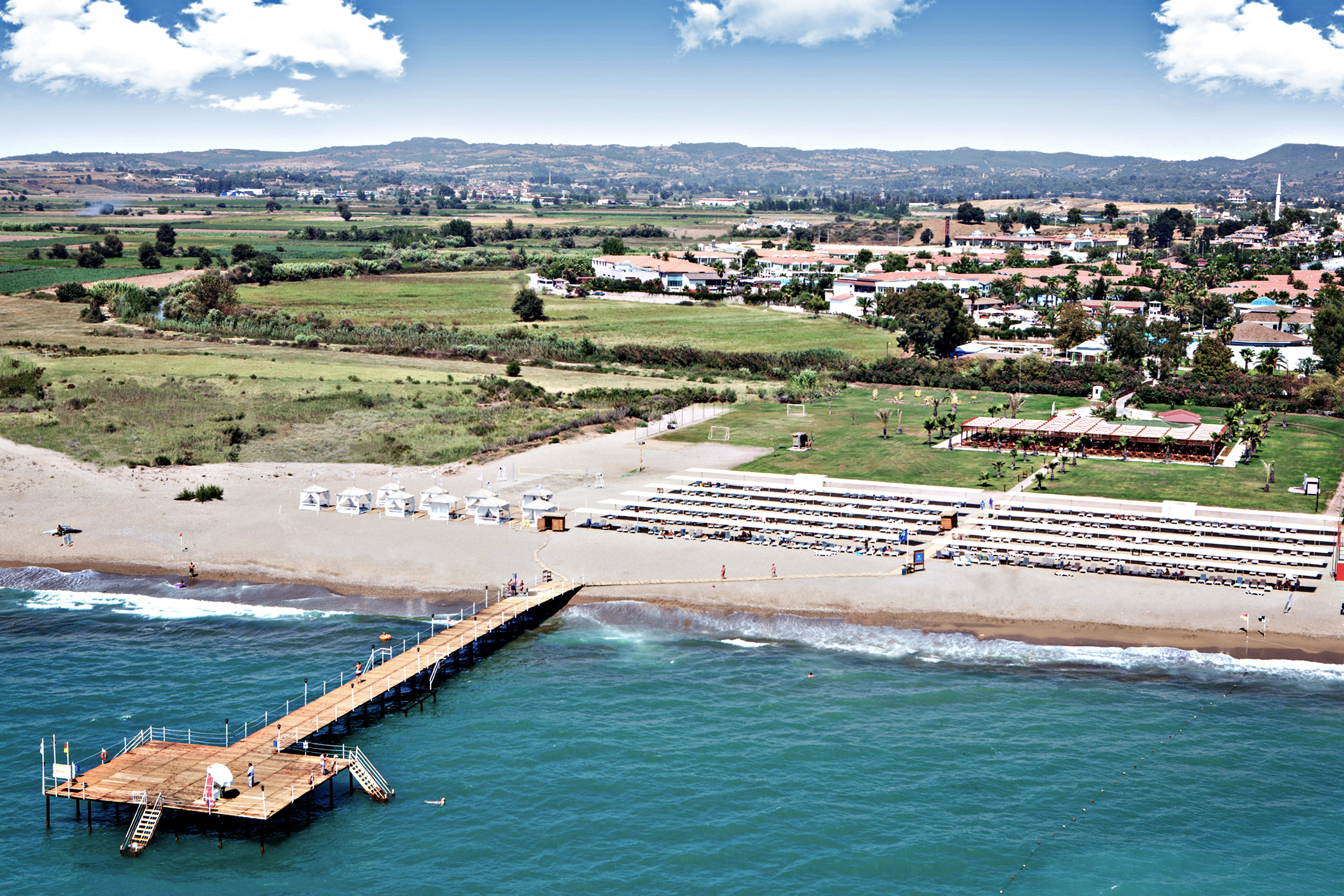 We are sure that every moment you spend at Euphoria Palm Beach, which offers a comfortable and serene holiday experience under the shade of palm trees, will be very enjoyable. You can use our airport transfer facilities or car rental options to provide comfortable transportation to our hotel, which is about 1 hour away from Antalya Airport, and to have a great start to your vacation.
Our hotel, established on an area of ​​183 thousand square meters, has a very striking sea view and a magnificent private beach. In addition to enjoying an isolated seaside pleasure on the private beach, our hotel offers 4 different outdoor swimming pools and 1 indoor swimming pool with options to meet every expectation, and there is also a very entertaining AquaPark. The children's pool, designed for children to swim safely and have fun in the pool, is also specially designed to guarantee parents a comfortable holiday.
We make sure that all our dear guests have an enjoyable time with the playgrounds, kids club, kids disco, and special activities prepared for our little guests to enjoy their time at all times. In addition, thanks to the baby and child care services offered at our hotel, we help families whenever they need it and provide services so that they can participate in organizations that they cannot attend with their children.
In Euphoria Palm Beach, which offers the necessary areas for different sports branches such as tennis, basketball, fitness, and water sports, you will enjoy being able to keep your body fit doing whatever you want. You can enjoy every moment in our hotel, which allows you to do sports using the equipment provided by the hotel without having to carry your sports equipment with you.
With 8 glorious restaurants, 2 cool pool bars, open buffet service, and experienced chefs, we work diligently to make your holiday a feast of unique taste and allow you to enjoy every moment and activity of the day. Euphoria Palm Beach will offer you an unforgettable holiday experience as well as a feeling of rest and peace you have never experienced before.
Kemer - Tekirova
Kemer, which is popular with its hotels, attracts attention as a holiday location where nature and sea merge in the most beautiful way in the Mediterranean. The fact that the holiday season lasts longer in Kemer, which is approximately 40 kilometers from the center of Antalya, is effective in explaining the frequent choice of this region. Everyone who wants to have a pleasant holiday in Kemer, where 300 days of sunshine a year and it is possible to enjoy swimming for approximately 250 days, should choose the ideal accommodation center. It is possible to enjoy blue flag beaches, aquarium-like underwater formations, historical artifacts, and delicious and special dishes in this magnificent holiday location, which hosts hundreds of thousands of tourists from all over the world, especially in summer. While exploring the underwater beauty of Kemer and Tekirova locations, you can also explore the historical buildings in the region. We are waiting to host you in Euphoria Tekirova in Kemer, where you can enjoy finding everything you are looking for in a single location.
In Euphoria Tekirova, which is located in the Tekirova region of Kemer and offers a very pleasant holiday experience with its private beach, it is possible to have a serene and calm holiday full of adrenaline. Our hotel, which is managed to meet different expectations, is established on an area of ​​120 thousand square meters. Serving with an ultra all-inclusive concept, our hotel offers unique tastes from Mediterranean, Turkish, Mexican and Far Eastern cuisines. An unforgettable holiday experience awaits you with 7 luxury bars and lounges and its location within walking distance of Kemer's most popular beaches.
The blue flag of Euphoria Tekirova's beach, which enable to have an isolated sea vacation with its 500 meters long private beach, has a great effect on the pleasure of its guests from sea. In addition to its wonderful sea, 4 outdoor swimming pools and a water park which appreciated by those who prefer to enjoy the pool, and there is also a swimming pool prepared for children.
Euphoria Tekirova, which has a special playground and a children's club for families with children, also provides plenty of space for activities specially prepared for children under supervision. In Euphoria Tekirova, which provides baby and child care services by the help of professionals, all the requirements are considered in details so that everyone can rest with pleasure.
Do not forget to get information to reach our hotel, which is approximately one hour away from Antalya Airport, in the most comfortable way. You can choose the most suitable option for you among private transfer services, regional transportation services or car rental options and enjoy starting your holiday comfortably.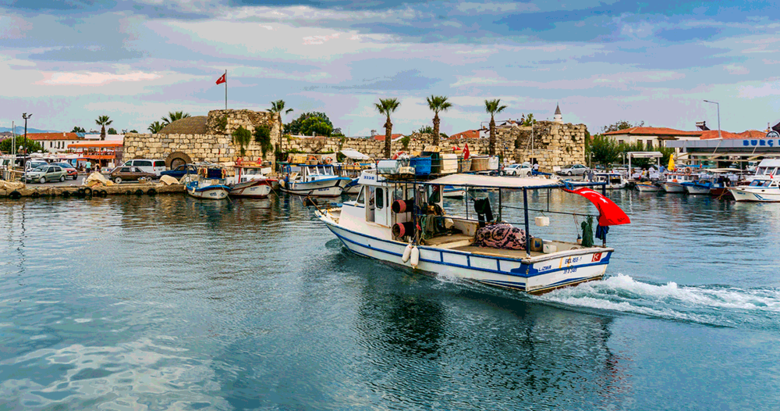 İzmir - Sigacik
Turkey's first Cittaslow title holder and supporter of the Slow Food movement - Seferihisar is known for taking forefront with the local, organic and handmade flavors. It is possible to choose any time of the year to have a wonderful holiday in Seferihisar, and I have to say that summer months are another pleasure in this region. You can enjoy nature, history and magnificent flavors while having a pleasant holiday in Seferihisar, one of the most popular holiday destinations of the Aegean in recent years, together with Sıgacik. You can visit the ancient city of Teos and enjoy swimming on blue flag beaches. You can also relieve the tiredness of the day having a dinner prepared with magnificent Aegean flavors.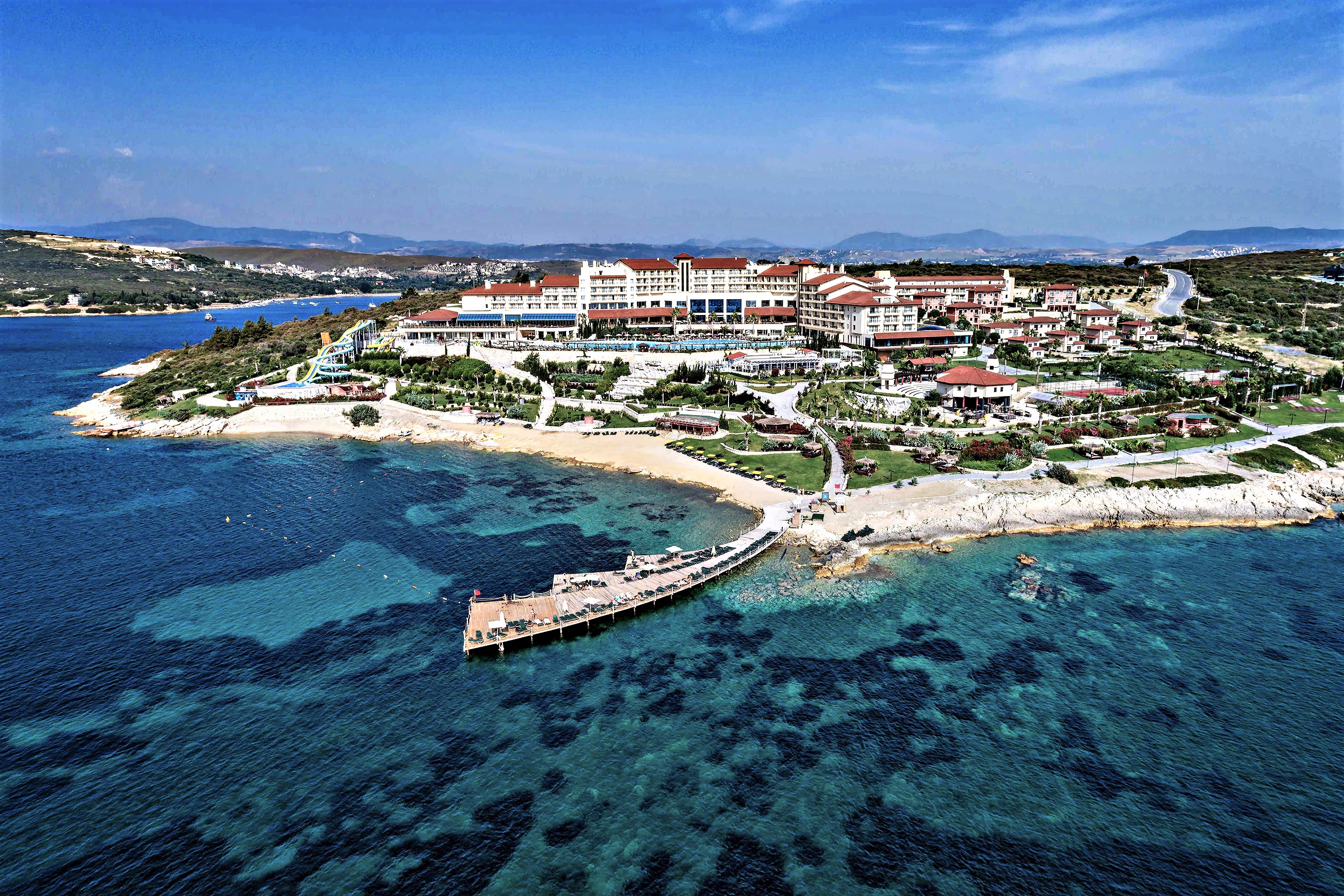 Standing out among Seferihisar - Sıgacik hotels with its thermal hotel concept, Euphoria Aegean Resort and Thermal Hotel, which you can choose with peace of mind for a wonderful holiday at any time of the year, regardless of summer or winter, is the number one option for those who want to enjoy the Aegean. In addition to being at the seafront, we guarantee that you will have a very pleasant time in our hotel, which has a private beach and a private island open to the use of our guests only.
Among the Sıgacik hotels, where various vacation plans and expectations are merged in the most satisfactory way, especially with its thermal spas, private island and all-inclusive concept, every moment you spend in our hotel will turn into a very valuable holiday memory. Our hotel is located 6 kilometers far from Seferihisar -Turkey's first slow city title holder, where you stay at seafront and enjoy the pleasure from sea and sunny beach.
Our hotel with 423 luxury rooms has 4 swimming pools, 1 private beach and 1 island that our guests can enjoy. Euphoria Aegean Resort and Termal Hotel, which has its own wharf, has 2 indoor and 4 outdoor swimming pools as well as 6 water slides for our guests who want to enjoy the pool.
Euphoria Aegean Resort and Termal Hotel, where it is possible to spend time with pleasure without getting bored, allows those who want to explore the region to have a new experience every day with its walking distance to Sıgacık and Teos Ancient City. It is possible to spend every moment breathtakingly at Euphoria Aegean Resort and Termal Hotel, which has facilities such as bowling hall, tennis court, basketball court and fitness center for its guests who enjoy the activities.
Thanks to the Turkish bath, spa, sauna and SPA center in Euphoria Aegean Resort and Termal Hotel, you will reload with a relaxation and experience a truly divine vacation. In our hotel, which successfully combines the concept of thermal hotel and the concept of sea holiday, you will have an unforgettable holiday with opportunities that will enable people of all ages to spend time with pleasure.
Our hotel, which is established on a very large and green area of ​​90 thousand square meters, includes 4 executive villas that will best meet the demands of our guests for an isolated holiday. Our guests staying in these villas, which have their own garden, terrace, pool, gazebo and hammock, can also benefit from the advantages offered in addition to all the facilities of our hotel.
The locations of all 3 hotels within the Euphoria Hotels & Resort make it possible to offer every opportunity needed to create the ideal holiday concept. We are proud to host tens of thousands of happy guests every year, thanks to the service concept that focuses on making our guests happy from all of our hotels.
Euphoria Hotels & Resort, which represents all the necessary facilities and areas under the most suitable conditions to relieve all the tiredness of the year at anytime you want, integrates the definition of vacation with comfort for all its guests. The fact that you really be satisfied and admire your total vacation in our hotel, which brings together the facilities where every person will feel the most comfortable holiday concept, will have a great effect on the change of your entire holiday understanding.